Quality craftsmanship that displays a deep understanding and respect for wood
Introducing Howard Lewis
I've had an appreciation and respect for wood for as long as I can remember, due mainly to the location and environment I grew up in. Being part of an organic family farm for many years, in the beautiful mid-wales countryside, certainly helped shape my thoughts on the world around me and life in general. After many years working as a farmer, I concluded that my sole aim was to leave the land in a better state than when acquired, thus doing my bit to help nature & wildlife for future generations. After all, quite simply, we are just custodians of the countryside.
A few years ago, like many other people, I began to question whether the occupation I was in, was the one that I wanted to do for the rest of my life. Although there were many aspects of farming that I enjoyed, I felt somewhat unfulfilled, as If I knew my pathway lay elsewhere. The answer to my question was, quite literally, all around me, I couldn't see the wood for the trees!
As an integral part of nature, trees & woodlands had always intrigued me, therefore it seemed obvious that working with wood, was indeed, what I should be doing.
Howard Lewis
Craftsmanship to the core
With an abundance of windblown trees around me, it was a natural progression to purchase a lathe and attempt to honour, in my own way, the spirit of the tree by creating a piece, that displayed it's beauty. That philosophy has stayed with me from day one, as I'm sure it will throughout my life.
Being self taught has given me a freedom in my design & creativity, that is sometimes stifled through conventional teaching.
It means that I can look at a piece of wood without any pre conceived ideas of what I should make. This is a big advantage in keeping an open mind, when deciding what particular style or form would best suit the piece of furniture, or artistic turning, I'm about to make.
I've sold my work through galleries, also places such as the Hay Festival and will probably continue along a similar path, in the future. I offer tuition classes as I enjoy teaching and passing on the knowledge that I've gained, to other like minded people.
I'd like for the people who acquire my work, to have as much pleasure in owning the piece, as I had in making it.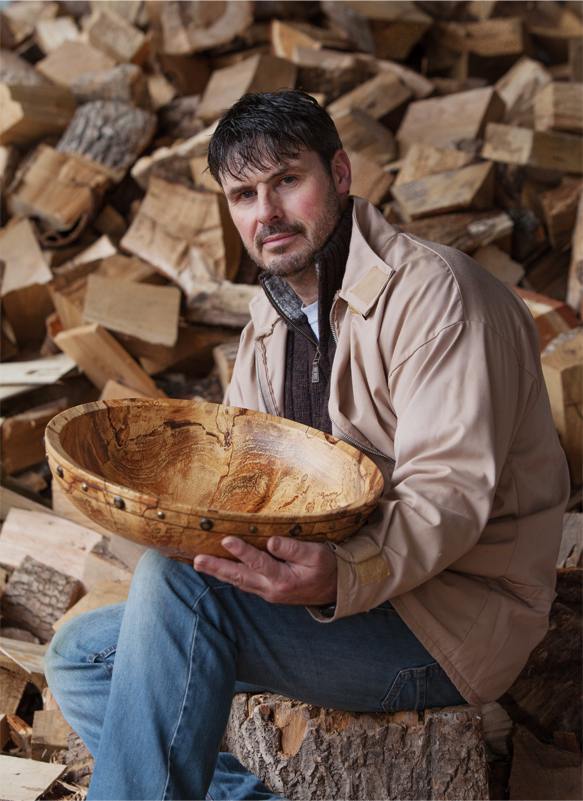 Products
"Enlightened" sculpture
Sycamore "distressed" bowl
Sycamore "water droplet"
Scorched red oak table
Chalk painted oak bowls
"See-saw" sculpture
Jarrah burr
Pens, pendants, etc.
"Between the posts"
Chalk paint bowl
Ash "autumn burst"
"Barrow bowl"
Scorched plinth & "eye"
Natural ash bowl
Bleached ash "pod"
Large burr elm platter
Ebony fountain pen
Burr oak table
"Expectant" sculpture
"Rust effect" bowl
"Mushroom" platter
"Fish" table
Holly "pod"
"Cremated" bowl
Tall burr oak vase
Carved sycamore bowl
Off centre oak bowl
Large bowl with studs
Burr oak fountain pen
Oak "walking" table
Rio 2016
Rio 2016 (back)
Carved oak bowl
Two tone platter
"Enlightened" oak sculpture on a slate plinth

Rippled sycamore "Distressed" beaded bowl

Sycamore "water droplet" platter

"Light outweighs the dark" sculpture, ash & oak

Large jarrah burr platter

Pens, boxes, pendants etc.

Large sycamore two tone chalk paint bowl

Ash "autumn burst" platter

Spalted beech "Barrow bowl"

Scorched oak plinth & sycamore "eye"

Ash bowl with natural bark inclusions

Carved & bleached ash "pod" on slate plinth

Large burr elm two tone platter with bronze leather cord inlay

Indian ebony fountain pen & red lacquer nib

Burr oak table with scorched base & edges

"Expectant" sculpture. Scorched oak & ash spheres

Olive ash "rust effect" bowl

Burr elm two tone "Mushroom" platter

Scorched oak table with "fish/reptilian" supports

SPECIES: Oak
DIMENSIONS: W290mm x H280mm x L1240mm
FINISH: satin wax oil

Holly "pod" & scorched Beech base

Rippled sycamore carved rim bowl

Large off centre burr oak bowl

Large scorched canker ash bowl with decorative studs

Oak "training shoe" table with leather cord laces & scorched "boot" supports

Ash platter depicting Rio 2016

Rio 2016 (back), depicting the five continental rings

Carved & ebonised oak bowl

Burr elm & sycamore two tone platter